NUIA is the heart of our technology (see figure below - blue layer). It creates the missing connection of sensors to the respective applications and translates gaze data into commands. Designed and implemented as a middle layer with minimal demands on the system, you can introduce the control of applications with gaze, speech and gesture at all workstations with minimal effort.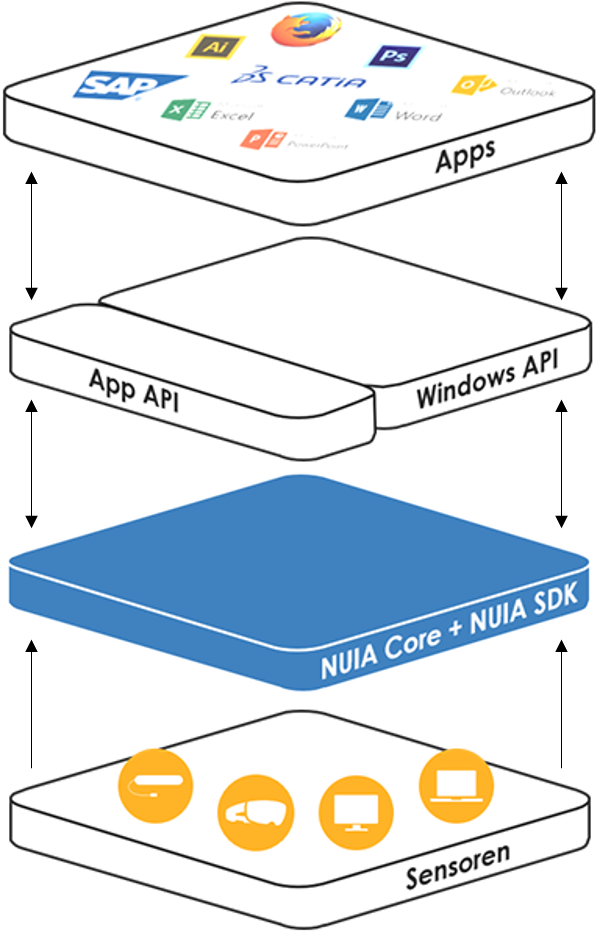 Sensors:
The focus of our activities is on computer interaction with the help of gaze data, but also speech and gestures. We are completely independent of manufacturers and support all common eye tracking hardware - from external eye trackers those that are integrated into laptops, monitors or mixed reality headsets. In addition, NUIA also supports a wide range of gesture and speech sensors to enable holistic, intuitive human-computer interaction. In addition, natural interaction can also be realized in VR and AR headsets with the help of NUIA.
App API/Windows API:
The use of NUIA at your workplaces does not require any adjustments to the supported applications. All functionalities are already provided by the installation of the NUIA Core and the corresponding extensions. To do this, NUIA dynamically connects to applications and the Windows operating system via the respective interface (API).
Apps:
NUIA generically supports all applications and websites and offers more than 100 enhanced integrations for more than 100 applications. This includes all common business applications from Microsoft Office to SAP to AutoDesk. Additional applications can be easily integrated into NUIA and adapted to your specific workflows.