Switch NUIA on/off via Shortcut:
Please press and hold the Shift key and click with the mouse on the NUIA Icon in the taskbar.

To restart NUIA, use the middle mouse button (mouse wheel) instead of the left mouse button.
Switch NUIA on/off via Traymenu:
You can easily turn NUIA on/off using the tray menu. Simply click on the NUIA icon in your taskbar and go to "NUIA on/off". There you can switch NUIA off with "Stop NUIA" or start it with "Start NUIA" or restart it with "Restart NUIA". The menu item "Exit" terminates the NUIA software completely and the icon is then no longer visible in the taskbar.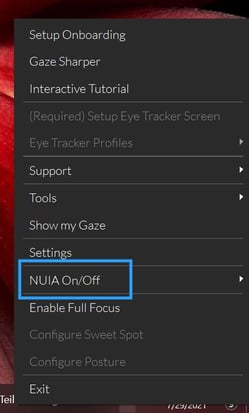 Traymenu - NUIA On/off