The NUIA button is a quick way to access the most frequently used commands of a given application and is displayed as a small grey semi-circle on the right side of the screen.
As soon as you look at this transparent grey button, it becomes opaque and activates with a contextually adapted menu. This allows you to perform completely hands-free quick actions, such as switching between the last three applications (see picture below). The button you are looking at is marked with a second blue circle. You can trigger the button by looking at the attached blue dot (on the left). If you are trained, you can also look directly at the attached trigger point.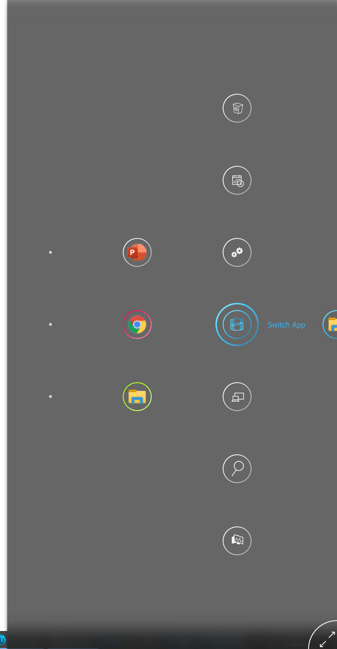 NUIA Button - "Switch App"
Where exactly is the NUIA Button available?
The application-specific functionalities only refer to the applications that are in the foreground.
Here are the supported applications:
Acrobat Reader
Archicad
AutoCAD (2019)
Autodesk Revit
Browser

Google Chrome
Microsoft Edge
Mozilla Firefox
Carmen
Catia
Creo (2.0, 3.0, 4.0, 5.0)
Explorer
Excel
FreeMind
ISBCAD
Kompas 3D
MS Paint
MS Teams
MS Visio
NITeststand
Notepad++
NUIA Settings
OneNote
Outlook
PDF XChange Viewer
PowerPoint
QTCreator
SAP
Siemens NX (1872)
Visual Studio (2015/2017)
Windows Desktop / Taskbar
Word
Why does the NUIA Button sometimes disappear?
The NUIA Button does not want you to disturb you in your normal computer activities. Therefore it disapears every now and then when you are using your mouse, reading or typing. Of course it can happen that your eyes stay around the NUIA Button because you are working in that area. In such cases the NUIA Button can be activated unintentionally. However, if you position the mouse cursor near the NUIA Button, the NUIA Button will hide and only reappear until the mouse cursor is moved out of the area.
If the NUIA Button is positioned too unfavorably in an application, you can change the location in the NUIA Settings or disable it if necessary.
Extended NUIA Button
NUIA also offers you an extended functionality of the NUIA Button, the so-called Gaze Pad. With this feature you have all NUIA Button functionalities and other shortcuts to choose from. In the activated NUIA Button you can open the Gaze Pad hands-free by looking at the button in the lower right corner.