1. General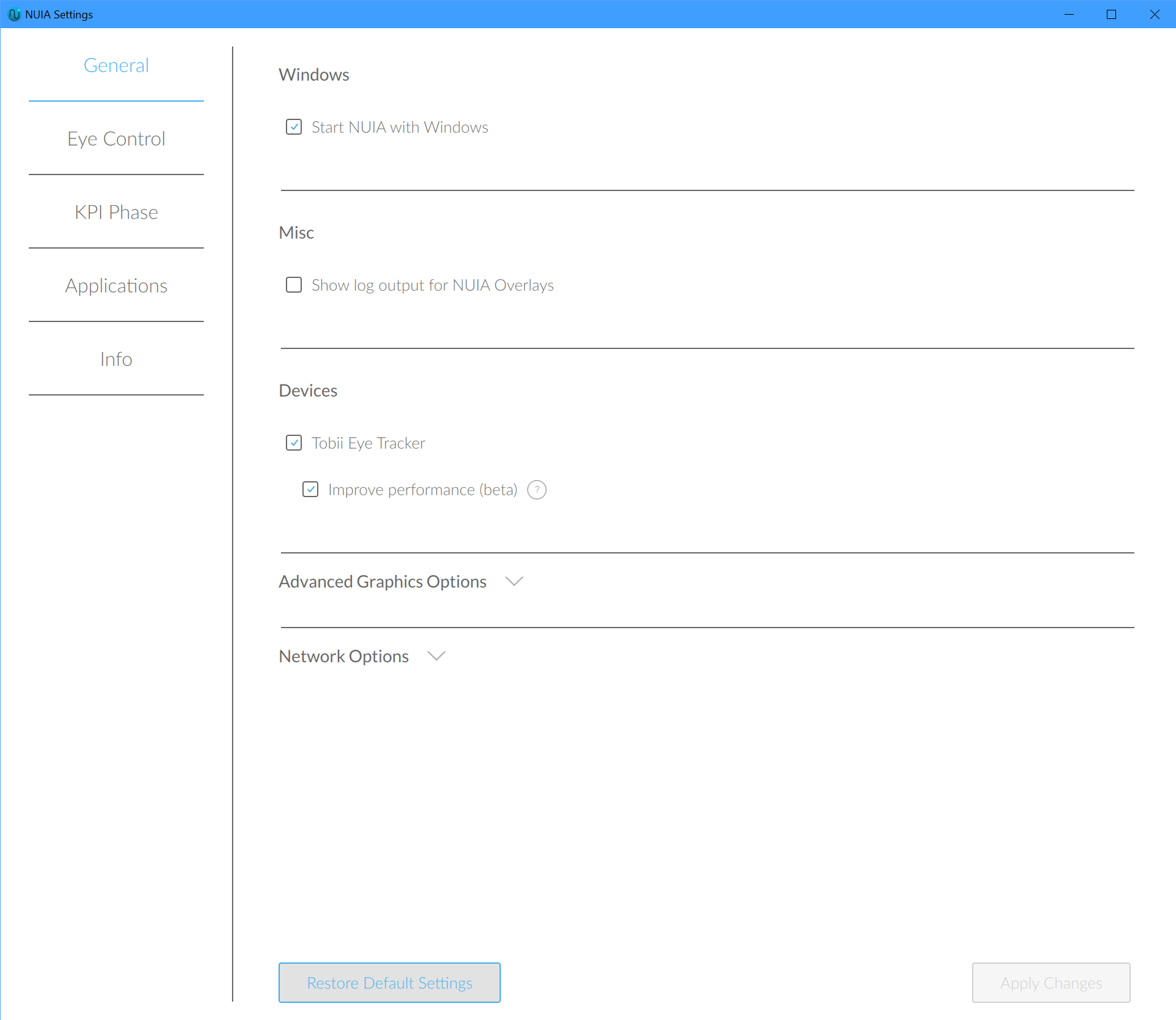 In the Winows section you can set whether NUIA should start with every Windows start.
Under Misc "Show log output for NUIA Overlays" you have the possibility to extend the log entries for the GUI elements. These are deactivated by default, as performance may be impaired on slow computers. If NUIA has problems displaying its own elements (Gaze Selectors, Quick Click, NUIA Button, etc.), please activate this setting and send us your log files.
With Devices, all devices that NUIA accesses can be deactivated/activated (gaze control, voice control and gesture control). Please note that if you deselect Tobii Eye Tracker, you will no longer be able to use gaze control.
The additional setting "Turn off additional Tobii software to improve performance" terminates all Tobii processes that are not required for NUIA. This will result in a high performance boost. As a result, you will no longer see the Tobii icon in the taskbar. Via the NUIA tray menu "Tobii Calibration" you have access to all calibration profiles of your eye tracker. However, we advise you to set up your eye tracker completely before you check this box.
The Advanced Graphics Options are settings that affect your graphics card and driver. Please only change these settings if you are sure what these changes will do to your computer (or if we explicitly advise you to do so). The changes could in some cases result in an enormous improvement in CPU and GPU performance. If you have a dedicated Nvidia graphics card, NUIA automatically enables "Use dedicated Nvidia graphics card". This leads to smoother animations of the NUIA elements.
Network Options only affects users who participate in a so-called KPI phase. These settings will only be set in consultation with your IT department.
2. Eye Control


"Offset Compensation" is an algorithm developed by NUIA that improves the precision of your viewpoint as you use it. You can briefly test your current viewpoint in the NUIA tray menu (where the settings are located) under "Development Tools" ("Show my gaze"). If you focus on a point on the screen and your viewpoint is shown next to this point, you can click the focused point with the mouse. You will see that your displayed viewpoint will be dragged more to this point with each click.
Note: Please note that Tobii's "Gaze Trace" with the active NUIA Offset Compensation no longer corresponds exactly to your current gaze data. Only the NUIA visualization shows you your true gaze point.
The Gaze Scrolling can also be de/activated here. This includes two more features.
The "Adobe Reader Gaze Scrolling" is a special plugin that allows you to scroll in Adobe Reader. But for this the "scrolling" must be activated in Adobe Reader itself (in Adobe Reader: View < Page Display < Enable Scrolling).
The Last Gaze Point can also be de/activated here.
The NUIA Button Menu can also be de/activated here.
The Gaze Pad can be de/activated. There are two trigger alternatives to activate the Gaze Pad. You can either use the left "Alt" key or the left "Shift" key in addition to holding down the left "Ctrl" key.
The Smart Teleport can be de/activated. You can also change the teleport distance manually. This means that NUIA only teleports the mouse if the distance between the cursor and your viewpoint is greater than the set distance.
You can also activate "Enable Mouse Teleport to secondary screens". This allows you to teleport to the secondary monitor with limited view data. We recommend that you only use it if your monitors have the same size and scaling.
"Visual marker for automatic Gaze Selectors" gives you the possibility to deactivate/activate the marker (small blue circle below the elements), which shows you at which button/element a Gaze Selector appears automatically only when you look at it.

For the Quick Click you have the possibility to change the trigger type. You can trigger the Quick Click with the mouse as well as with the keyboard.
With the "Response Time" you can increase/decrease the trigger time of NUIA functionalities (e.g. Gaze Selector) in 3 steps (Fast < Lightning < Insane)
3. KPI Phase
Here you will find your KPI data required for the KPI phase. During the KPI phase you can upload your KPI data at any time by clicking the round KPI Upload button in the upper right corner of this page. You can read more about the first setup of the KPI phase in "How do I set up NUIA Productivity+ for the KPI Phase?".
4. Applications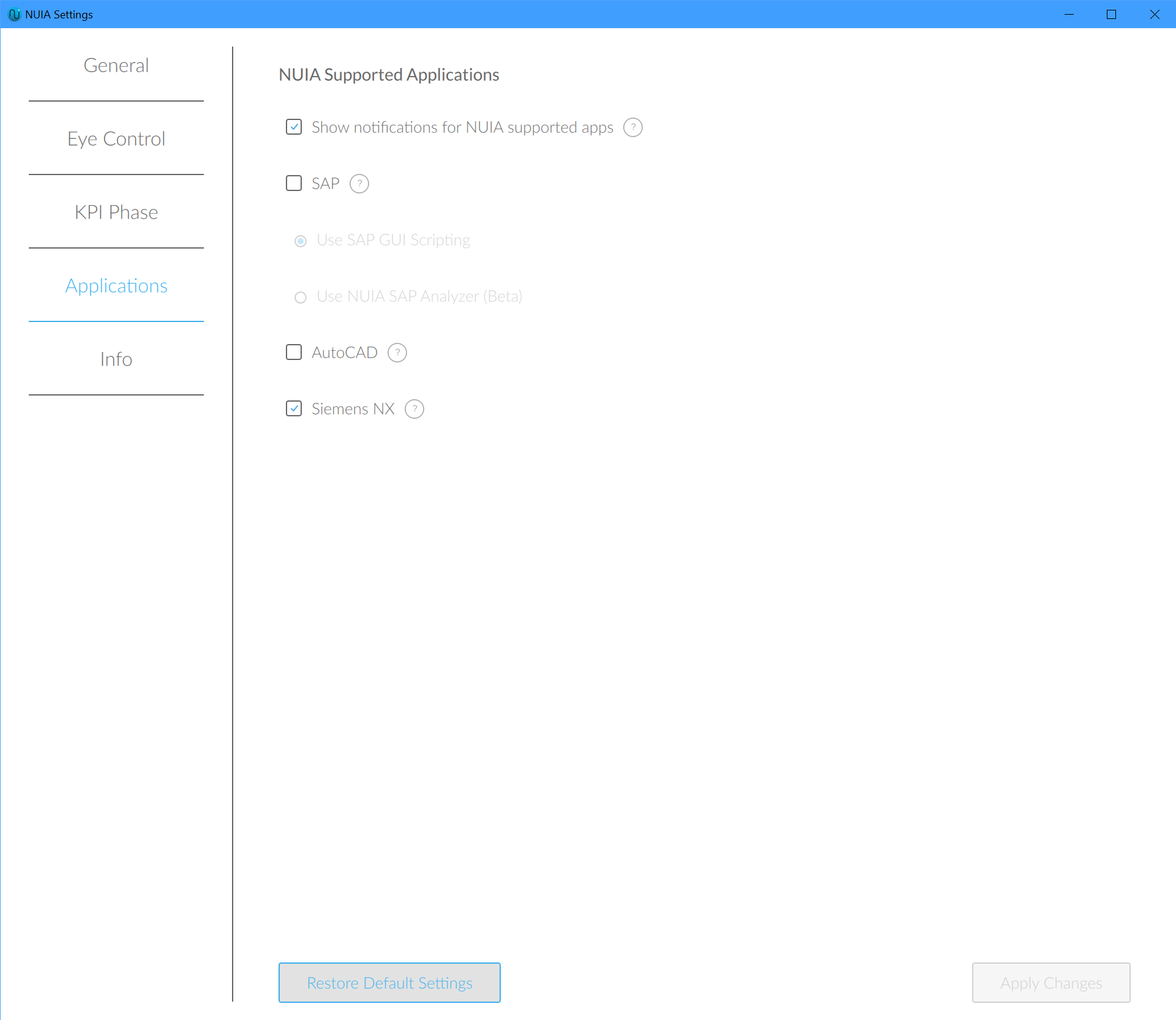 Here you can see all applications you can pause for NUIA.
5. Info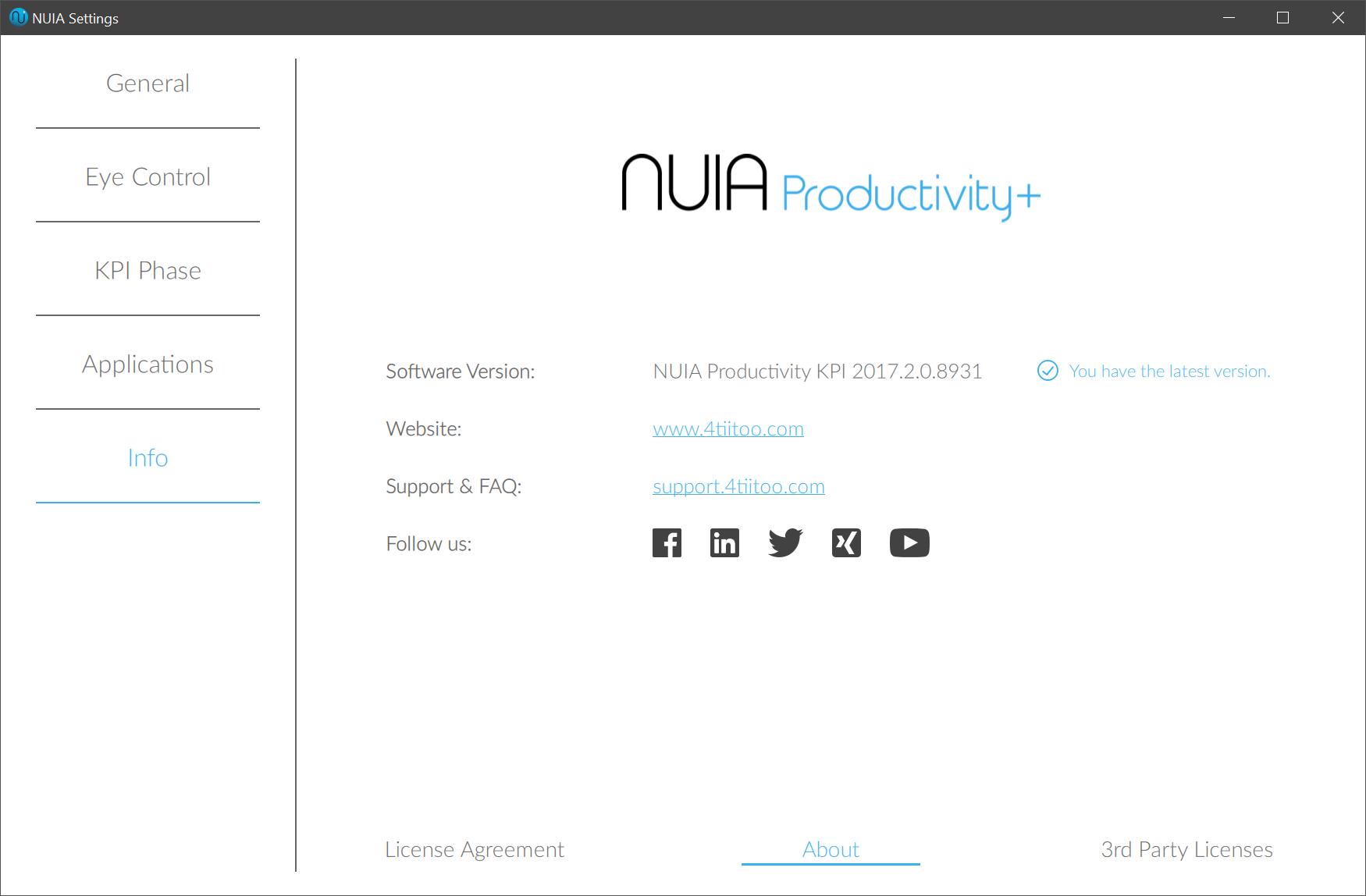 In this section, you can see which NUIA version you currently have installed and get your update information here.