This could have different causes. First make sure that the following points have been checked:
Is NUIA up and running? (Green icon in the task bar)
Is the Eye Tracker switched on/plugged?
Is your Eye Tracker locked to the magnetic strip and properly mounted?
Can the Eye Tracker recognize your eyes without any problems?
Is your eye tracker mounted on your monitor where you want to use NUIA?
If all of the above settings are correct and you still have the problem, try identifying your problem in the following examples:
Quick Click does not appear where my gaze is
If the Quick Click doesn't appear at your viewpoint, but is shifted, your Eye Tracker does not record your gaze data precisely.
What can you do?
Improve your calibration
Check your eye tracker profile (don't forget to create two different profiles for contact lenses or glasses)
NUIA overlays appear somewhere else
The best way to test this case is to activate your visual NUIA viewpoint (NUIA Tray Menu > Tools > Show my gaze) and look at clickable areas.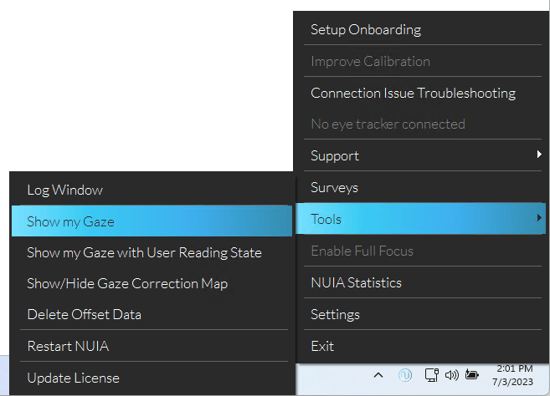 If these problems do not apply to yours, please do not hesitate to contact us.
Support Contact:
Mo-Fr: 9:00 am - 5:00 pm
LiveChat
Phone: +49 89 2000 128 - 30
E-Mail: support@4tiitoo.com